About Squishy Circuits 
Squishy Circuits are used in classrooms, libraries, museums, maker spaces, and more in all 50 states and more than 25 countries. While the products and projects fit Next Generation Science Standards (NGSS) in the US, Squishy Circuits also works well with any science or engineering lesson plans, STEM activities, or home-based learning environments.
View Educational Resources
Our History
Squishy Circuits was developed in 2011 in the Playful Learning Lab at the University of St. Thomas in St. Paul, Minnesota. Dr. AnnMarie Thomas, the founder and director of the Playful Learning Lab, and undergraduate researchers, including Matthew Schmidtbauer and Sam Johnson, created a method for using homemade conductive and insulating doughs to teach electrical circuits and engineering concepts through play.
While finishing school and working a full-time engineering job, Schmidtbauer developed the business of Squishy Circuits Store, LLC. He found a reliable vendor of safe, quality products and began building the kits in his garage, which he sold to educators and creators worldwide. Eventually the demand for the kits grew enough that Schmidtbauer left his full-time position to focus exclusively on Squishy Circuits.
Squishy Circuits has even been invited to the White House!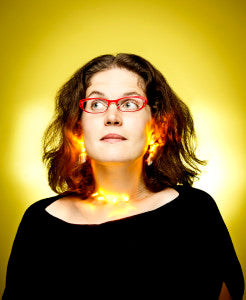 Dr. AnnMarie Thomas
AnnMarie Thomas, Ph.D., is an Associate Professor in the School of Engineering and the Opus College of Business at the University of St. Thomas. She is the founder and director of the Playful Learning Lab, which explores ways to encourage children of all ages to embrace playful learning. She is the author of Making Makers: Kids, Tools, and the Future of Innovation.
AnnMarie lives in St. Paul, Minnesota, with her husband and two daughters. She is an amateur aerialist, specializing in static and flying trapeze. Learn more about AnnMarie at her website.
Matthew Schmidtbauer
Matthew Schmidtbauer's Squishy Circuits journey began in early 2011. An electrical engineering student at the University of St. Thomas, Matthew was excited to work with AnnMarie on the Squishy Circuits project, and recognized a need: many Squishy Circuits enthusiasts were looking for a single source for all required components.
Matthew is proud to have sold tens of thousands of Squishy Circuits kits in more than 25 countries around the world. He is a firm believer that learning can be accomplished through play and self-discovery.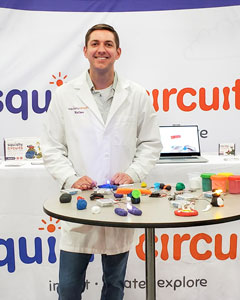 Want to learn more about what inspired the creation of Squishy Circuits? Dr. AnnMarie Thomas explains and demonstrates electrical properties in this Ted Talk.